Dr. CHEN Xi, a geographer and expert on remote sensing with the Xinjiang Institute of Ecology and Geography (XIEG) of the Chinese Academy of Sciences (CAS), was elected foreign member of the Academy of Sciences of the Republic of Tajikistan on Aug. 29 in Dushanbe.
CHEN is elected for his achievements on ecology and environment research in Central Asia's arid zone, and his contribution to promoting regional science and technology cooperation in Central Asia.
He obtained his Bachelor of Science from Xinjiang University and Master of Science from the Institute of Geographic Sciences of the CAS, and then got his Doctor's Degree from Wuhan University.
CHEN focuses his research on hydrology and water resources, remote sensing and geographic information system. He is now the director of the XIEG and head of the Xinjiang key laboratory of Remote Sensing and Geographic Information Systems.
The Academy of Sciences of the Republic of Tajikistan was founded in 1940, evolving from the branch of the Tajik Academy of Sciences of the USSR. It has now more than 2,000 employees, including 35 full members and 43 corresponding member, 190 doctors, 360 candidates' with 18 foreign members.
The Academy comprises 14 research institutes engaged in researches in the field of natural, technical and social sciences.
Scientific institutions of AS are combined into three departments: Department of Physical-mathematical, chemical, geological and engineering sciences, Department of Biological and Medical Sciences and the Department of Social Sciences.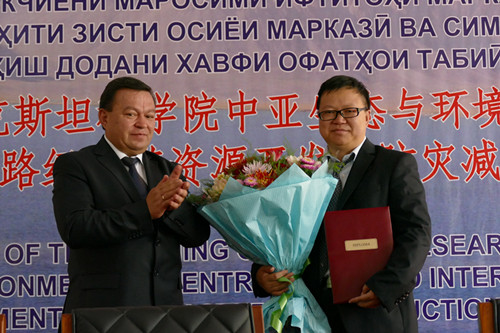 CHEN Xi was elected foreign member of the Academy of Sciences of the Republic of Tajikistan (Imaged by XIEG)