The Chinese Academy of Sciences (CAS) signed an agreement on Nov. 15 in Kigali, Rwanda with The University of Lay Adventists of Kigali (UNILAK) to launch a research center for natural resources and Environment, the first of its kind in East Africa.
The center, jointly built by The Xinjiang Institute of Ecology and Geography of the Chinese Academy of Sciences (XIEG) and UNILAK, is a result of partnership between the two sides in the past five years.
"The establishment of this center was our promise to UNILAK. We will continue to work hand in hand to make it a success. Our target is to bring our contribution to fight climate change," said BAI Chunli, President of Chinese Academy of Sciences.
The research center will focus on fighting climate change, natural resources protection, improvements of modern agricultural technology, disaster risk reduction, GIS and remote sensing as well as outreach program to the public.
"The center will provide information on which citizens will base their daily activities," said Dr. Jean Ngamije, Vice Chancellor of UNILAK.
The last five years have seen a success in partnership between XIEG and UNILAK with strong academic and research collaboration in natural resource and environment. The two institutions decided to renew the agreement and strengthen their partnership for the next five years.
"We have a lot to celebrate at the end of the first phase of our partnership especially the research center we launched today." said CHEN Xi, director of XIEG.
The research center was launched during an International conference on sustainable environmental and natural resource management with over a hundred representatives from Rwanda, Kenya, Uganda, Burundi and China. The conference coincided with the 26th general meeting of The World Academy of Sciences (TWAS) held in Rwanda.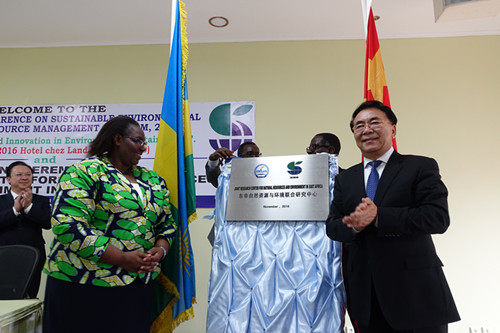 CAS President BAI Chunli unveiled the nameplate for the research center together with Mukantabana Seraphine, Rwandan Minister of Disaster Management and Refugee Affairs(Imaged by XIEG)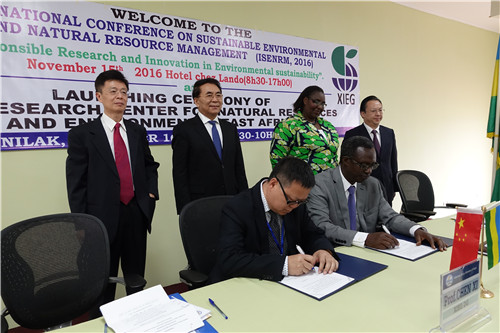 XIEG director CHEN Xi signed the renewed partnership agreement with UNILAK President, Dr. Jean Ngamije(Imaged by XIEG)