A book called Griffon Vulture in Xinjiang was recently published in China, concerning the classification, distribution, evolution, breeding, migration, feeding and the living condition of vultures in China.
This is the fruit of a nearly decade study on the general situation and information of China's vultures carried out by Prof. MA Ming and his team at the Xinjiang Institute of Ecology and Geography (XIEG) of the Chinese Academy of Sciences.
Vultures are a kind of large carrion-eating birds that live predominantly in the tropics and subtropics. They are of great value as scavengers, feeding on the remains of dead animals.
Because of their diet, these birds are able to kill harmful bacteria and viruses with their stomach acids, and halt the potential spread of disease from rotting carcasses.
There are merely 23 vulture species left across the world up to now, with less than 10 living in China, mainly western provinces such as Xinjiang and Tibet. However, recent years have seen the number of vulture declining dramatically, especially since the early 1990s.
"Food availability, environmental pollution, veterinary drug, food poisoning, habitat loss, poaching, as well as traditional Chinese medicine demand are the main reasons that caused the deterioration of vultures' living conditions," said MA in his book. Among these reasons, residues of the veterinary drug in animal carcasses is the chief culprit.
A study in 2016 reported that "of the 23 vulture species, nine are critically endangered, three are endangered, four are near threatened, and seven are least concern". MA Ming said that he hopes to draw the attention to vultures and their key role in ecological cycle and environmental protection through this book.
Preferred Citation: Ma M, Xu G H and Wu D N et al. 2017. Vultures in Xinjiang. Science Press, Beijing, 1-214.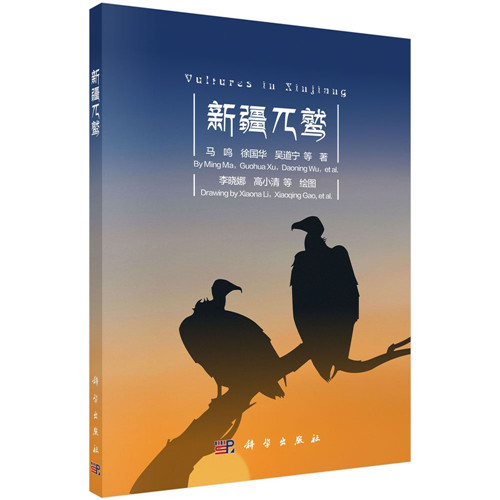 Griffon Vulture in Xinjiang
Vulture (Imaged by MaMing)