A cooperation agreement signed in Xinjiang on Apr. 6 will further advance the joint efforts between China and the United Arab Emirates on protecting the Asian Houbara, a bird species that breeds in desertareas but is under grave threats.
This is the third stage for the cooperation between the Xinjiang Institute of Ecology and Geography(XIEG) of the Chinese Academy of Sciences and the International Fund for Houbara Conservation (IFHC).Both sides will continue collaborating on the protection and ecological monitoring of the Asian Houbara population.
Asian Houbara is found in the desert and steppe regions of Asia, east from the Sinai Peninsula extending across Kazakhstan east to Mongolia. Populations have declined at an alarming rate during the last decades, owing to a combination of factors including urban development, human intrusion, poaching and unregulated hunting.
"The cooperation project will provide strong scientific data support for the assessment of the Asian Houbara population's living condition, the formulation of an effective protection plan, as well as a future field protection for the species," said LEI Jiaqiang, director of XIEG, at the signing ceremony.
Cooperation on protecting the bird species between the two countries dated back to 20 years ago when they signed their first agreement to protect the Asian Houbara in 1997. The agreement extended ten years later in 2008.
Twenty years' cooperation has seen a series of field investigations and researches on the distribution and migration, population dynamics monitoring, breeding ecology, behaviors and habitat selection of the Asian Houbara.
Established in 2006 by His Highness Sheikh Mohammed Bin Zayed Al Nahyan, the International Fund for Houbara Conservation (IFHC) is a global organization dedicated to the restoration and preservation of the Houbara bustard.
The Fund oversees an extensive network of affiliated global Houbara bustard conservation projects and Houbara captive breeding programmes.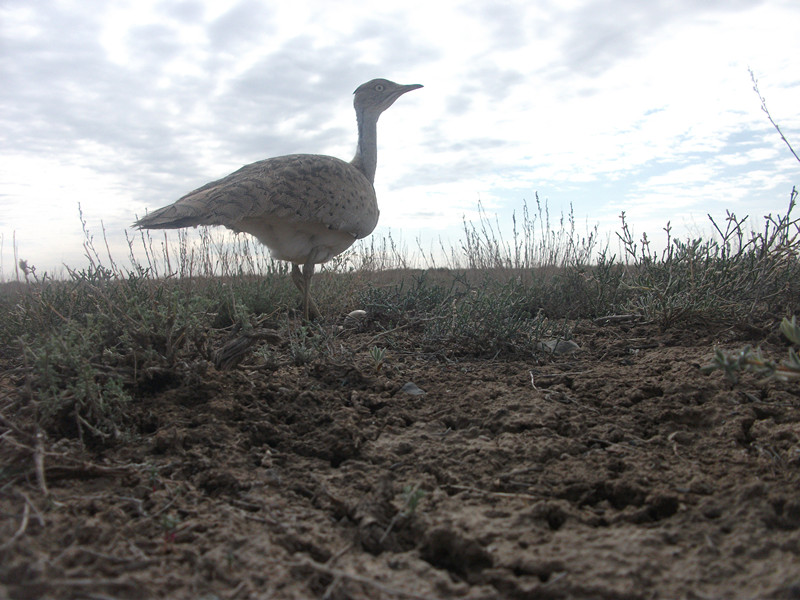 Houbara(Imaged by XIEG)