China is extending support to help the desertification control in Africa shared with its experience gained in the last decades.
A workshop with Chinese scientists and 20 training staff from nine African countries began in China's northwest Xinjiang Autonomous Region on July 30. This is a fortnight training course, invited lecturers from the Chinese Academy of Sciences and several other institutions and universities, will help promote the ability of desertification control staff involving the Great Green Wall in Africa.
During the 14 days, the training staff from Senegal, Chad, Ethiopia, Mauritania, Mali, Niger, Nigeria, and Sudan have learn the typical desertification control technology and experiences in China, especially the successful cases in Xinjiang.
The Great Green Wall, or Great Green Wall of the Sahara and the Sahel Initiative, is an Africa's flagship initiative to combat climate change and desertification. Led by the African Union, the initiative aims to improve the lives of millions of people by creating a great green productive landscapes across the Sahel in North Africa.
The initiative worked steadily in afforestation, ecological adaptation, poverty reduction and regional economic development since its establishment in 2005, with the joint effort of the involving countries.
Desertification is a common problem for all human being. Desertification often comes along with ecological degradation, slow economic growth, and people living in poverty.
Both China and some African countries face a common threat from desertification. Statistics show that since 1900, the Sahara has expanded by 250 km, covering an additional area of 6000 square kilometers. The studies related with the Gobi Desert in China which is the fastest moving desert on Earth, show that it encroached 1,300 miles of land annually.
Xinjiang Institute of Ecology and Geography (XIEG) of the Chinese Academy of Sciences has carried out several international cooperation research projects on desertification control during the last decade. Suitable desertification control technology system, successful application demonstrations and the technology promotion model were formed.
"Based on our mature technology, the African staff technical training may help boost the ability of African countries on desertification control." said Prof. LEI Jiaqiang, director of XIEG.
XIEG also have helped Kazakhstan to build ecological barrier around the capital city of Astana in last year. It is a project adopting China's mature technology on ecological barrier construction and management to solve desertification problems in Central Asia.
The XIEG already signed a MOU in 2016 with the Oromia Pastoral Area Development Commission of Ethiopia to enhance cooperation on degraded grassland restoration, livestock husbandry development, and staff training.
"China has built a set of environmental protection system suitable for its own national conditions, this is something worthy of reference for Africa. Africa should seek further cooperation with China on desertification control." said Zugulo Abara Mahamet, the director of Science and Technology Committee of the Great Green Wall Secretariat.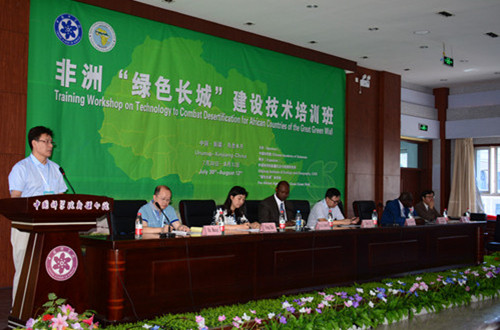 Training workshop on technology combat desertification(Imaged by XIEG)