【Global Times】BRI's emphasis on environmentally friendly practices has benefited Central Asia countries
2023-09-12
An aerial view of China built Turgusun hydropower station in city of Altai, Kazakhstan. Photo: Xinhua
For ten years, China and Central Asian countries have been more tightly bonded together through cooperation in the traditional energy section under the Belt and Road Initiative (BRI). However, the rise of Chinese companies specializing in renewable energy and scientific institutes equipped with technology on ecological preservation has been greening the BRI in the past decade.
By using Chinese technology and experience to monitor and improve the ecology of Central Asia countries, imparting local people the expertise to build a hydropower station, and kick starting a cutting-edge photovoltaic power plant to help generate substantial renewable energy in the region, Chinese institutes and companies are helping turn the dream of a "Green Silk Road" into reality, while also making China-Central Asia cooperation in the green sector a paragon for other countries.
Ecological cooperation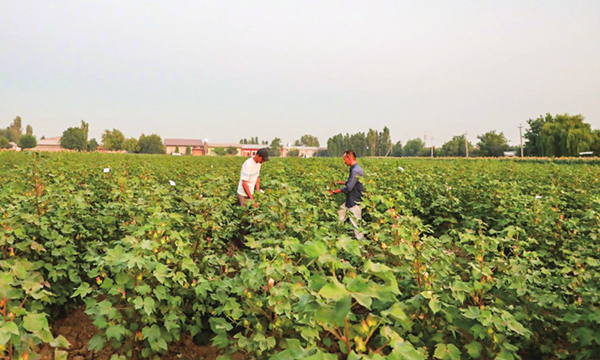 Research fellows from the Institute of Genetics and Plant Experimental Biology at the Academy of Science of Uzbekistan examine a drip irrigation water-saving technology demonstration field, on August 18, 2023. Photo: Zhang Jiangping/GT
The Aral Sea, located between Kazakhstan and Uzbekistan, was once the world's fourth-largest lake. Farmland expansion, rising temperatures and a lack of water-saving technology caused the sea to shrink to just 10 percent of its original surface by the end of the 1990s. Large areas of the lake bed have become bare and covered with salt or salt crust. The health of local residents has also been affected, with a significant increase in the proportion of people suffering from leukemia, kidney disease, bronchitis, and asthma.
In recent years, scientists from the Xinjiang Institute of Ecology and Geography (XIEG) with the Chinese Academy of Sciences and Uzbekistan have been actively cooperating on the treatment of the Aral Sea.
"The Aral Sea crisis is essentially a problem of an inland lake drying up due to excessive water extraction for agricultural irrigation," Li Yaoming, the director of the Research Center for Green Development of Silk Road at XIEG, told the Global Times.
"China's Xinjiang region has also faced similar problems in the past, such as the management of the Tarim River. China has been implementing ecological water transfer from the Tarim River for many years and has relatively mature water resource management techniques, which can provide a reference for Uzbekistan," said Li.
In the suburb of Tashkent, capital of Uzbekistan, stood a 5-hectare demonstration field for drip irrigation water-saving technology. XIEG participated in the project, established an observation station for plants, brought cotton and wheat seeds from China and used drip irrigation to improve plant productivity.
The drip irrigation technology equipment and supporting farming machinery here are all from China, Shakhzod Saitjanov, a research fellow from the Institute of Genetics and Plant Experimental Biology of the Academy of Science of Uzbekistan, told the Global Times. He believes this project will elevate the quality of Uzbekistan's agriculture and boost the country's economy.
"Traditionally, Uzbeks tended to use flood irrigation in cotton cultivation, which requires the use of a large amount of water to wash away the salt content in the soil. We have introduced new drip irrigation technology, which will help save a significant amount of water resources," said Li.
In addition, Chinese scientists also helped in improving and managing saline-alkali land. They use salt-tolerant plants to reduce the salt content in the soil, creating conditions for growing other crops. Artificial forests are also planted on the sandy desert that formed after the drying up of part of the Aral Sea. All of these efforts play an important role in the protection of the Aral Sea.
Since the launch of the BRI, XIEG has conducted vast fundamental cooperation with regional countries in terms of improving the region's ecology. For example, the institute helped developed an integrated water-saving irrigation system for cotton in the Aral Sea region and a 25-hectare technology demonstration base has been established. The technology has been across a 200-hectare area. In 2021 and 2022, Uzbekistan found out that yields reached 404 kilograms and 414 kilograms per mu (0.06 hectare), respectively, while the water-saving rate reached 70 percent. Both yield and water-saving efficiency were more than double that of local cotton fields.
In Kazakhstan, XIEG introduced 32 species of plants with a total of 15,600 plants, and conducted training on planting techniques and irrigation measures. The institute completed the establishment of a 20-hectare protective forest belt demonstration zone, established a comprehensive health assessment system for man-made forests, and evaluated the ecological service functions of ecological barriers.
As the Earth is becoming hotter from global warming, inland and hydropenic Central Asian countries are facing severe environmental challenges. Such challenges are pushing China and Central Asia closer in cooperation in improving the region's ecological problems after the BRI was launched. Ten years ago, people in Central Asia had little understanding of China's in water-saving and ecological protection technology. However, climate change has made them feel the urgency of environmental protection in recent years, said Li, noting that more and more research institutes and government departments in Central Asian countries have been approaching them, seeking cooperation.
He said that ecological protection has been gradually emphasized under the framework of the BRI and that he expects the governments of Central Asian countries to endow more support to relevant projects.
Environmental protection was highlighted during the Xi'an Declaration of the China-Central Asia Summit, which concluded in Xi'an in May. As noted in the declaration, the Parties reaffirm the need for concerted efforts to ensure food security in a changing climate, and also note the importance of farming in the most environmentally friendly ways that support biodiversity, with the optimal use of water and land resources.
Li believes that the summit, as well as development of the BRI will be a turning point for China's environmental cooperation with Central Asian countries, as "collaboration in this field has been put in a higher position ever since."
Teach a man to fish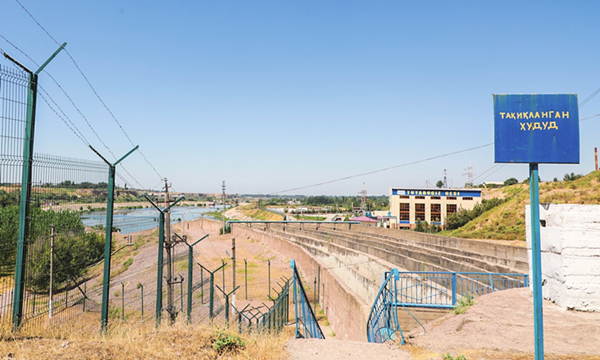 A view of the Tuyabuguz Hydropower Plant in Tashkent Region, Uzbekistan, on August 18, 2023. Photo: Zhang Jiangping/GT
The Tuyabuguz Hydropower Plant in Uzbekistan was the first project completed after leaders of China and Uzbekistan signed government-to-government energy cooperation during the Belt and Road Forum held in 2017 in Beijing.
The project, contracted by Dongfang Electric Corporation (DEC), was completed within 14 months and put into operation in April 2019. As of August, a total of 109 million kilowatt-hours of electricity has been generated by the project. The station can achieve uninterrupted power generation for 11 months in a year, with an annual electricity output sufficient to meet the power needs of 1,600 households in Uzbekistan. It will become profitable within four years.
Sun Jianfeng, a DEC project manager in charge of the station, told the Global Times on August 18 that "all power generation equipment in the project was manufactured in China, and the key technologies for the water turbines and generators were independently developed using Chinese intellectual property rights."
Sun introduced that the project was located downstream from the Akhangaran River's Tuyabuguz reservoir in the Tashkent region, which was originally used for irrigation. It was built at the location with the highest potential energy, which it fully utilizes to generate electricity, making it highly economical.
"The hydropower station maximized the utilization of energy during the irrigation process. Moreover, the project takes measures to prevent the flow of water from damaging crops or facilities," said Sun.
The project's environmental friendliness not only embodies the generation of green energy, it also does not cause environmental problems like the construction of traditional dams, as it was built under an existing reservoir, introduced Sun.
Uzbekistan has shown enormous interest in renewable energy in recent years. The country has set an ambitious goal - generate 30 percent of its electricity from renewable energy sources by 2030.
Sun said that Uzbekistan government has been encouraging foreign investment into the renewable energy sector in recent years, which has created a friendly environment for Chinese companies. Meanwhile, Chinese companies' advanced technology in green energy also made them highly competitive in Uzbekistan. Thus, Sun believes cooperation between the two countries has great potential.
In May 2022, Uzbekistan's investment committee and China's Ministry of Commerce reached an agreement to build a series of small and medium-sized hydroelectric power facilities worth a total of $2.7 billion, media reported.
Apart from exporting equipment, DEC is devoted to training local experts in the hydropower industry. Sun said his company held large-scale training sessions in 2018 and 2019. More than 60 Uzbeks took part in the sessions.
"We taught them how to operate and maintain our equipment. The locals completed installation and debugging of our facilities during the final stage. The equipment has been functioning well and been well maintained during the past three years of operation," said Sun.
"We did not send our people to the site for maintenance, we just provided guidance online. We sold our equipment and offered them our technology at the same time. There's an old idiom called 'give a man a fish and you feed him for a day; teach a man to fish and you feed him for a lifetime.' We taught them how to keep the project running for the next four or five decades, so the Uzbeks are going to operate it independently in the future," said Sun.
Meet local demands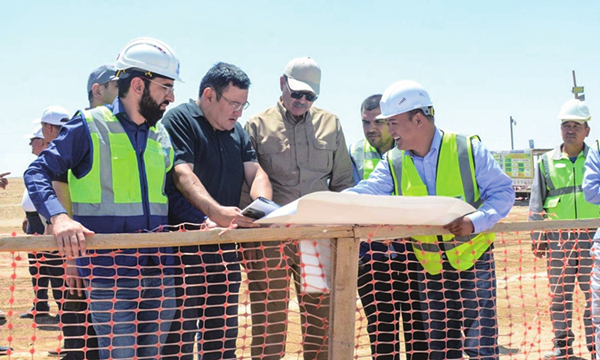 Prime Minister of Uzbekistan Abdulla Aripov (center) visits the Zarafshan 500MW Wind Power Project, on June 23, 2023. Photo: Courtesy of SEPCOIII
Aziz, who works at the Zarafshan 500MW Wind Power Project, is always enthusiastic about her work. Whenever she encounters a problem, she relentlessly seeks answers from her Chinese colleagues.
Aziz considers herself fortunate to have witnessed the installation of the first wind turbine at the Zarafshan wind power project in early June. This marks the first-ever wind turbine installation in Uzbekistan.
Constructed and run by SEPCOIII Electric Power Construction Co., Ltd. (SEPCOIII) in Zarafshan, Navoi Region, Uzbekistan, the Zarafshan wind power project is the first megawatt-scale wind power project implemented in Uzbekistan. With a total installed capacity of 500MW, it will also be the largest operational wind power project in Central Asia upon completion.
Currently, the project is in its peak construction phase. Once completed, the project will provide sufficient green electricity for 500,000 households and save 1.1 million tons of carbon dioxide emissions annually, making a significant contribution to Uzbekistan's energy transition and sustainable economic development goals.
Uzbekistan's President Shavkat Mirziyoyev has implemented a series of reforms since taking office, of which new energy reform is an important part. According to the government plan, by 2030, the share of renewables in Uzbekistan's energy will reach 25 percent of the energy mix.
Aziz still vividly remembers the nationwide power shortage that occurred in early 2023. Despite the overall stability of the political situation and the upward trajectory of the economy in Uzbekistan, the country still faces challenges in meeting its growing electricity demand.
However, Aziz feels optimistic about the future of energy development in Uzbekistan. Aziz's confidence in the future of energy development in Uzbekistan is shared by many. The government's commitment to addressing the power shortage issue and its efforts to attract investments in the energy sector have instilled hope among the population.
"Uzbekistan is an important country along the BRI route, and the production and construction of photovoltaic, wind power and other new energy fields are the strengths of Chinese enterprises, so the prospects for cooperation between the two sides are promising," Ji Jun, manager of the project from SEPCOIII, told the Global Times.
'Green Silk Road' realized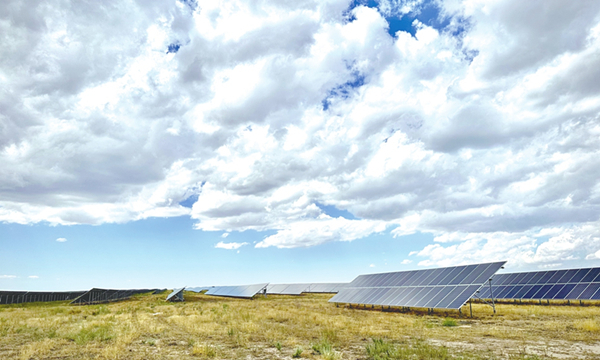 A view of the Kapchagay photovoltaic power plant in Almaty Region, Kazakhstan, on August 15, 2023 Photo: Lin Xiaoyi/GT
A power station located in Kapchagay, Kazakhstan, co-invested and constructed by Universal Energy, a Chinese renewable energy company based in Shanghai and its Kazakhstan partners, marked the largest single photovoltaic power plant in Kazakhstan. Starting operation in 2019, the station is also the region's first large-scale new energy power station.
With the model of "100 percent Made in China, 100 percent Construction in Kazakhstan," the project is able to generate electricity at a much lower cost than other similar power stations, and has substantially reduced carbon emissions. Wu Xiaoliang, deputy manager of the Universal Energy told the Global Times that "the station can generate 160 million kilowatt-hours on annual basis, equivalent to the electricity consumption of 50,000 households in Kazakhstan for one year. The project can reduce carbon emissions by 160,000 tons annually."
Wu also pointed out that in 2023, the company completed an international green certificate transaction with a large international trader, selling carbon assets generated from the 7,000 megawatt-hours of electricity generated by the Kapchagay power station, offsetting approximately 5,950 tons of carbon dioxide emissions.
"The company has six newly built renewable energy power stations in Kazakhstan that have provided a total of 1.7 billion kilowatt-hours of green electricity to the local area, reducing carbon emissions by a total of 1.7 million tons."
In recent years, China and Central Asian countries have accelerated cooperation in the field of new energy such as wind power, solar power, and hydropower. According to data from China Power International (Kazakhstan) Investment Limited, by the end of 2022, the total installed capacity of a series of renewable energy projects invested and constructed by Chinese companies in Kazakhstan, including the Zhanatas wind power station and Turgusun hydropower plant, has exceeded 1,000 megawatts.
The accelerated cooperation is also aimed to cater for Central Asian countries' rising ambition in exploring usage of new energy. For example, Kazakhstan has made ambitious commitments to reduce the country's greenhouse gas emissions to 15 percent below their 1990 levels by 2030 and of reaching carbon neutrality by 2060.
Wu explained that Kazakhstan can realize self-sufficiency in providing electricity at the current stage, yet the country is facing the problem of an outmoded electricity infrastructure.
"Most of the electricity-generation infrastructure was built during the Soviet era, which means their service time is reaching the limit. Insufficient maintenance and reinvestment in certain facilities are also evident. This means that if investment in the power sector is not increased soon, Kazakhstan may face significant power shortages in the coming years," said Wu.
Compared with companies from other countries such as Germany and Japan, Chinese companies' advantages are visible: Its leading photovoltaic technology, its deep connection with Central Asian countries and China-Europe freight train services have given such cooperation a better edge.
Wu said that the Kapchagay power station alone has more than 300,000 photovoltaic modules that were transported from China through China-Europe freight trains. The time and cost advantages brought by the China-Europe freight trains enabled the project to be completed and connected to the grid within only nine months.
China-Europe freight train services are helping China-invested wind power and photovoltaic power stations successfully land in Kazakhstan, which has accelerated exports of relevant Chinese equipment, and broken Europe's monopoly over Kazakhstan's new energy equipment, said Wu.
"The 'Green Silk Road' is becoming a reality," he said.
Contact:
LIU Jie
Xinjiang Institute of Ecology and Geography, Chinese Academy of Sciences
Phone: 0991-7885505
E-mail: liujie@ms.xjb.ac.cn
Web: http://english.egi.cas.cn/