Rector of Al-Farabi Kazakh National University Visit XIEG
2023-10-30
On October 19, a delegation led by Prof. Zhanseit Tuimebayev, Chairman of the Board – Rector of Al-Farabi Kazakh National University, paid a visit to the Xinjiang Institute of Ecology and Geography, Chinese Academy of Sciences. During this visit, they engaged in friendly discussions with Prof. Zhang Yuanming, the director of XIEG. The topics covered included the implementation of cooperative efforts in the construction of the Sino-Kazakhstan Joint Laboratory of Remote Sensing Technology and Application and strategies for combating desertification, among other areas of collaboration. Jilili Abuduwaili, Deputy Director, Dr. Qiao Jianfang, Head of the division of International Cooperation and others at XIEG were present at the meeting.
Director Zhang Yuanming extended a warm welcome to Rector Tuimebayev and his accompanying delegation, expressing his appreciation for their visit. He emphasized that XIEG situated in a region characterized by arid conditions, has achieved notable research breakthroughs in domains like water resources, geological data analytics and mineral resources, as well as desertification control. In collaboration with various other organizations, they have jointly launched the "Central Asian Regional Green Technology Development Action Plan" in conjunction with the Third Belt and Road International Cooperation Forum. Zhang Yuanming conveyed his belief that, operating within the framework of this action plan, and with active engagement from the scientific research teams on both sides, along with the inclusion of additional research expertise, they will intensify their research efforts targeting the ecological environments of Central Asia on a broad regional scale. He is optimistic that this collaborative endeavor will result in fresh accomplishments in scientific and technological exchanges and cooperation, ultimately benefiting the citizens of both nations. Furthermore, they engaged in a comprehensive dialogue regarding the precise details of the joint laboratory's construction.
Rector Tuimebayev expressed strong admiration for XIEG's wealth of experience and technological expertise in fields such as desertification control, sustainable water resource utilization, and biodiversity preservation. He underscored the fact that Kazakhstan and China's Xinjiang region encounter shared ecological and environmental challenges, including issues like land desertification and inadequate water resources. Consequently, there is a pressing need for scientists from both nations to embark on more extensive and enduring cooperation. Rector Tuimebayev expressed his hope for an extended collaboration with XIEG across a variety of scientific and technological sectors, building upon the foundation established by the remote sensing technology and application joint laboratory.
During their visit, Rector Tuimebayev and his delegation visited XIEG's Literature Information Center as well as the Xinjiang Natural Museum.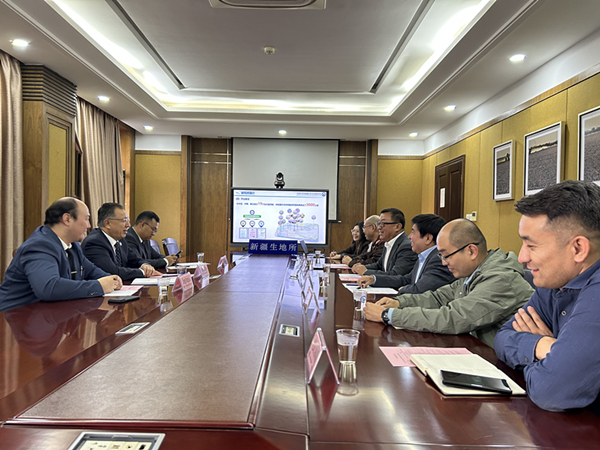 Group meeting (Image by Lv Haixiang)
Contact:
LIU Jie
Xinjiang Institute of Ecology and Geography, Chinese Academy of Sciences
Phone: 0991-7885505
E-mail: liujie@ms.xjb.ac.cn
Web: http://english.egi.cas.cn/