【CGTN】What can China share about its experience in desertification control?
2023-10-31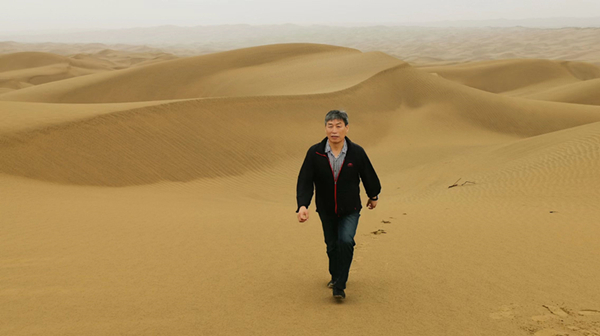 Lei Jiaqiang in the Taklimakan Desert, northwest China's Xinjiang Uygur Autonomous Region, August 19, 2019. /Courtesy of Lei Jiaqiang
Deserts account for a great deal in Lei Jiaqiang's life. In his eyes, deserts create magnificent scenery and stand as an important landform with a history of millions of years. And most important of all, he has been doing desert studies during the past four decades in northwest China's Xinjiang Uygur Autonomous Region.
The 62-year-old research fellow still works for the Xinjiang Institute of Ecology and Geography, under the Chinese Academy of Sciences. As the former director of the institute, Lei has been active in international conferences, workshops and seminars in recent years, sharing China's experience in combating desertification with other countries.
China and five Central Asian countries launched an action plan to promote cooperation on green technology in ecology, agriculture and biodiversity on October 18 at a sideline event of the Belt and Road Forum for International Cooperation in Beijing.
Xinjiang Institute of Ecology and Geography is one of the partners that proposed the plan, which said efforts will be made in building a tech center, joint labs and field stations, and training talents for the Central Asian countries. Lei pointed out that combating desertification is a major area of cooperation.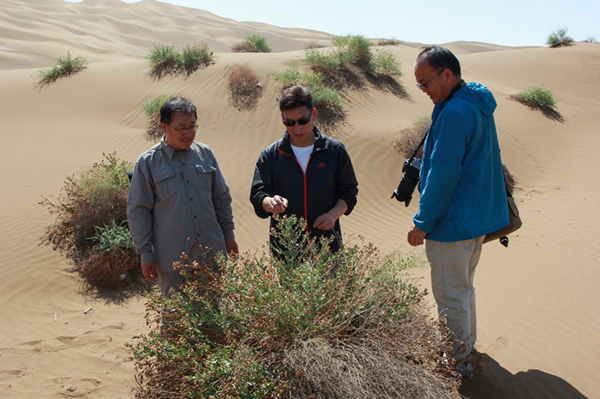 Lei Jiaqiang (C) and his colleagues in Kumtag Desert in Shanshan County, northwest China's Xinjiang Uygur Autonomous Region, September 4, 2017. /Courtesy of Lei Jiaqiang
In September, the China-Mongolia Desertification Prevention and Control Cooperation Center was established and will serve as a vital platform for joint efforts in combating desertification.
The efforts will involve China's support for Mongolia's ambitious "Plant a Billion Trees" plan and the construction of ecological protection and restoration demonstration areas. China will promote its established afforestation, grass planting and sand control techniques and models in Mongolia.
As the director of Association for Combating Desertification, Alliance of International Science Organizations (ANSO), Lei hopes that, while building a "bank" of desertification control technologies, the association can find proper ways to increase local people's income. He said the aim of the organization is to make both the ecosystems and the livelihoods of local people sustainable.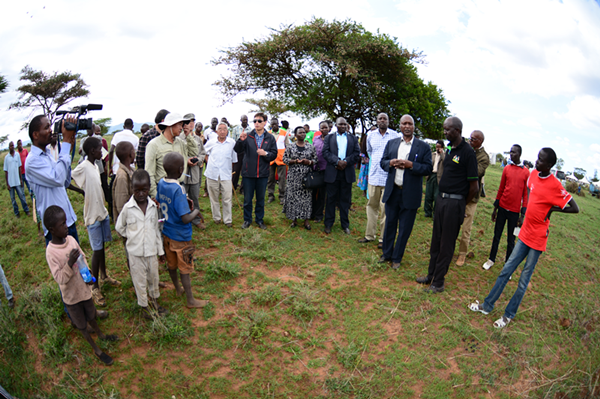 Lei Jiaqiang (C) discusses restoration techniques of degraded grasslands with local experts in Baringo County, Kenya, November 20, 2015. /Courtesy of Lei Jiaqiang
Data from the United Nations show that about 500 million people live within areas that have experienced desertification since the 1980s. Affected areas are mainly located in developing countries with arid climates such as Asia, Africa and South America.
"Desertification is mainly caused by climate change and unsustainable human activities, such as deforestation, overgrazing," said Lei. "Desertification can lead to serious ecological and social crises, causing poverty, poor health and lack of food security."
Lei noted that the key to preventing the expansion of deserts lies in controlling its edges. He added that desertification control can not only solve environmental problems such as sandstorms and land degradation, but also provide opportunities for economic development.
He got the idea based on his experience in road construction projects in the largest desert in China - the Taklimakan Desert. Known as the world's second largest drifting desert, it has an area of 337,000 square kilometers, nearly the size of Finland.
To tap into the oil and gas resources in the Taklimakan Desert, as well as facilitate transportation in southern Xinjiang, roads have been planned in the desert since the 1990s. But it's no easy task to build and maintain roads on drifting sand.
"To find solutions of breaking wind and stabilizing sand, over 100 experts from several institutions worked together, monitoring wind and sand movement, selecting salt and wind tolerant plants, and experimenting with irrigation practices," said Lei.
Decades on, the fruits of their studies have been widely used in road projects in the desert. Currently, four desert highways run across the "sea of death," which have been protected by vegetation belts, known as green corridors. While enjoying convenient transportation, people in the region also get tourists who are attracted by desert landscapes.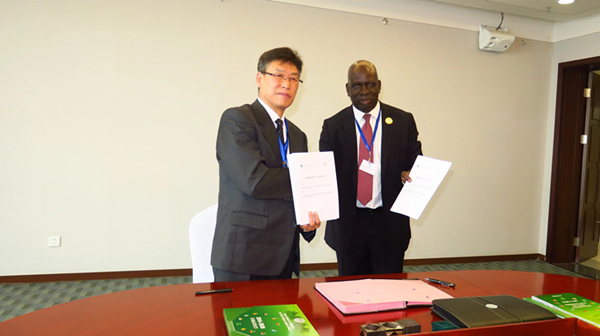 Lei Jiaqiang (L), on behalf of the Xinjiang Institute of Ecology and Geography, Chinese Academy of Sciences, signs a memorandum of cooperation with Abdoulaye Dia, the then executive secretary of the Pan-African Agency of the Great Green Wall, in Erdos, north China's Inner Mongolia Autonomous Region, September 15, 2017. /Courtesy of Lei Jiaqiang
Their success in building highways and green corridors in the desert attracted attention from Africa. Since 2006, Lei and his team have been working on various desertification control projects with African countries, such as Libya, Mauritania, Nigeria and Ethiopia.
To combine their expertise with local conditions, Lei said, focuses of collaborations are different. They focus on sand dune management in Mauritania, whereas the key task in Ethiopia is the restoration of degraded grasslands.
In June, Lei shared his insights into desertification control with representatives from 14 nations during the Third Taklimakan Desert Forum held in Urumqi, Xinjiang. The event is also the second training workshop on desertification combating for the Great Green Wall of Africa.
Launched in 2007 by the African Union, the African-led Great Green Wall initiative aims to restore the continent's degraded landscapes and transform millions of lives in the Sahel, the region bordering Africa's Sahara Desert. This project is being implemented across 22 African countries and will revitalize thousands of communities across the continent.
Contact:
LIU Jie
Xinjiang Institute of Ecology and Geography, Chinese Academy of Sciences
Phone: 0991-7885505
E-mail: liujie@ms.xjb.ac.cn
Web: http://english.egi.cas.cn/