Turpan Eremophytes Botanical Garden, CAS
The 150-hm2 Garden was established in 1976 and is affiliated with XIEG of CAS. It is located at 89o11'E and 42o51'N, 10 km to the southeast of the center of Turpan county. The altitude ranges -95 m to -76 m below sea level, the second lowest place on earth. It has a continental arid desert climate of the warm temperate zone. Its main landform is the improved shifting sand land in the hinterland of the Turpan Basin which has been called the 'Wind Pool' and 'Flaming Land'. Its annual average temperature is 13.9°C with an extreme minimum of -28.0°C and an extreme maximum of 47.6°C. The maximum temperature of sand surface in summer is over 80°C. The annual average precipitation is only 16.4 mm while the annual evaporation is 3,000 mm, and the average relative humidity is 41.0%.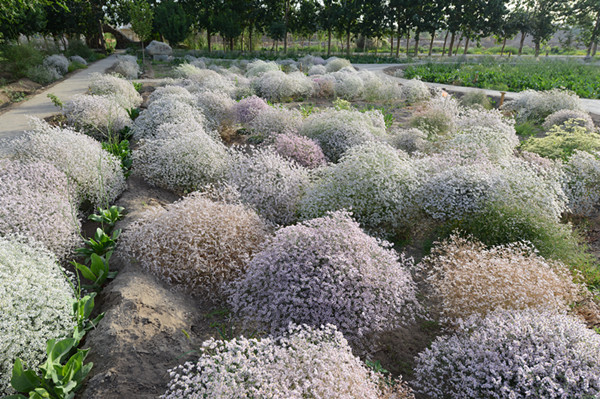 Part of the Garden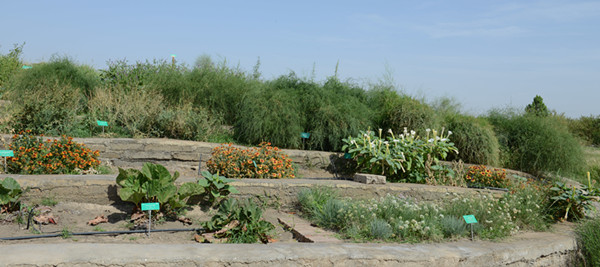 Ethnic Medicinal Herbs Garden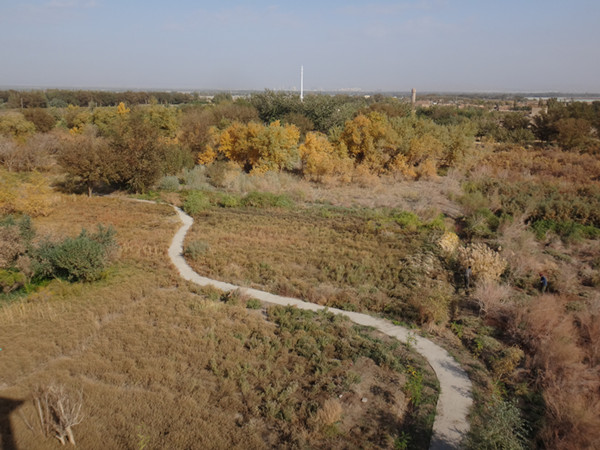 A Snapshot of the Garden
The purpose for the Garden's establishment was to broadly collect various arid desert plants, so as to show the characteristics of desert flora. More than 600 species of eremophytes have been collected and 10 special gardens have been established, which includes:
(1) Eremophytes systematic garden
(2) Tamarisk collection garden
(3) Calligonum collection garden
(4) Ethnic medicinal herbs garden
(5) Arid rare and endangered plants ex-situ protection districts
(6) Grape germplasm collection
(7) Desert fruit tree collection
(8) Desert ornamental plants garden
(9) Halophytes garden
(10) Junggar desert landscape exhibition area
Given the titles 'National Educational Base' in 1999, '3A Scenery Spot' in 2006 and 'National Wild Germplasm Conservation Base' in 2008, the garden is a nationally popular education base and an ideal place for scientific research on eremophytes.
Research Fields
(1) Collection and ex-situ conservation of eremophytes
(2) Conservation biology of rare, endangered and endemic eremophytes
(3) Sustainable utilization of strategic eremophytes resources
(4) Change of economic traits, special compounds and genetic diversity under ex-situ conservation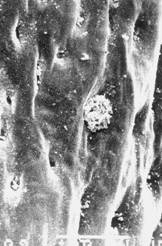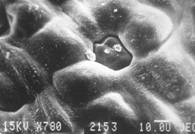 A SEM photo of salt glands in leaf of Tamarix L. A SEM photo of Tamarix leaf
Major Accomplishments
(1) Collection, conservation and sustainable use of eremophyte resources from Central Asia
Currently more than 600 species of 325 genera and 83 families have been collected into the Garden. Among these, Tamarix L., Calligonum L. Ammopiptanthus Cheng f, Nitraria L., Glycyrrhiza L. and Haloxylon Bge occupy more than 80% of the total genus resources distributed throughout the desert zone of China. In the past 30 years, over a million seedlings and 50 tons of seeds from Turpan Eremophytes Botanical Garden have been used in forest shelterbelts, sand controlling belts, rehabilitation of farmland, sand storm prevention, and horticultural green projects in Western China.
Some technologies from the Turpan Eremophytes Botanical Garden, including breeding and reproductive technology and sand-controlling shelterbelt establishment technology, have been used in the southern part of Xinjiang to help improve the ecological environment and to develop a bio-energy industry. For example, more than 1 million acres of the woody shrub Tamarisk has been established since 1990s, to help local people out of poverty. The project won an UNEP award in 1995, for outstanding works on saving the dry lands.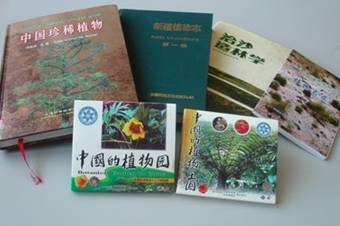 Monographies about botany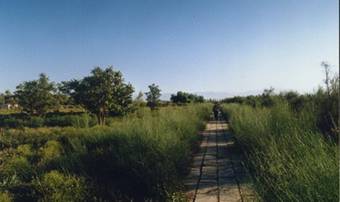 A scenery of Turpan Eremophytes Botanical Garden
(2) Biological, physiological and molecular adaptation mechanisms of eremophytes in adverse environments
The researchers took Ammopiptanthus nanus, an evergreen shrub in Xinjiang, as the subject for a study of cold-resistance mechanisms. The research found and extracted an antifreeze protein (AFP) with a molecular weight of 119.24 kD and thermal shock activity of 0.45oC (20 mg/ml). The protein showed differences from AFPs extracted from other Ammopiptanthus species and taxa. Soluble protein and sugar are more active under heat shock conditions, and this reaction, similar with other AFPs, shows a consistence function by them. The results were published in Canadian Journal of Plant Science (2010).
In addition, some genes resistant to adverse conditions were studied in some unique species. These included LEA gene from Tamarix albifonum, metallothionein (MT) gene from T. hispida, stress-related aldehyde dehydrogenase gene ALDH21 and Tr288 gene from T. desertorum. All these genes have been transferred to local varieties of cotton, an important economic crop in Xinjiang, to improve their ability to resist drought (MT gene patent Nr. 200610009150.4).
(3) Systematics and phylogeny of eremophytes
The methods of traditional classification, comparative anatomy, cladistic analysis, DNA sequencing and geographical studies were used to investigate the systematics of Tamaricaceae, and Calligonum L. with results as follows:
(a) The nuclear and chloroplast sequence data, 18S (nrDNA), rbcL (cpDNA), and tRNA Ser/Gly(cpDNA), for all of the genera in the Tamaricaceae were analyzed. The molecular data set showed strong support for Myrtama being a distinct genus from Myricaria, and as an intermediate between Tamarix and Myricaria. The results were published in Chinese Science Bulletin (2006) and Annals of Missouri Botanical Garden (2004).
(b) The phylogeny of Calligonum L. was studied. As a result, the taxonomic traits of C. mongolicum and C. ebi-nuricum have been revised. Based on morphological and chromosome evidence, it is suggested that C. pumilum was combined with C. mongolicum. A new species, C. taklimakanense, has been reported by PAN Borong and SHEN Guanmian. The results were published in Nordic Journal of Botany (2009).
(4) Biological conservation study of rare and endangered species
The distribution gap, propagation system, pollination ecology, genetic divergence and seedling establishment of several rare and endangered species, including Eremosparton songoricum, Ammopiptanthus nanus, and Haloxylon ammodendron, were studied with the purpose of detecting endangered mechanisms and bringing out suitable conservation strategies. The results were published in Journal of Systematics and Evolution (2009), Australian Journal of Botany (2010) and Nordic Journal of Botany (2010).
Contact
Director: Prof. Zhang Daoyuan
Tel: +86-991-7823109
E-mail: Zhangdy@ms.xjb.ac.cn
Website: www.tebg.org