Yili Botanical Garden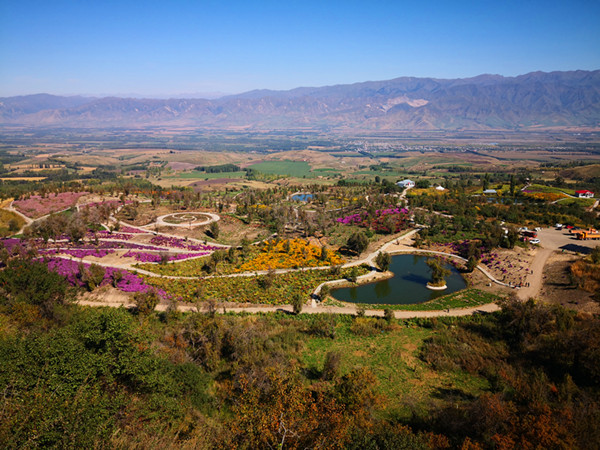 In 2012, the project of Yili Botanical Garden feasibility study was started.
In 2014, it started planning and construction in cooperation with local governments.
In June, 2016, it was officially inaugurated as a botanical garden under Xinjiang Institute of Ecology and Geography, Chinese Academy of Sciences.

Yili Botanical Garden is located in Alemale Township, Xinyuan County, Yili River Valley of Xinjiang Province. The Yili River Valley area is one of the 11 key areas of terrestrial conservation of global biodiversity in China. The construction land covers the resources of rivers, wetlands, hills, mountains and forestlands, and there are shade slopes, sunshine slopes, ridges, valleys and other suitable habitats for various plants. The planned construction area is 35 square kilometers.

Construction content and objectives
Yili Botanical Garden is purpose to protect the biological diversity, and will build the world's largest botanical garden in arid areas in the future. According to an international high starting point, high level, high quality standards for the construction of the ideas, Yili Botanical Garden will build a plant germplasm and a scientific research center, and will develop a demonstration of popular science and industrial experiment in arid areas. In addition, tourism is also an important part of Yili Botanical Garden. The ultimate goal of Yili Botanical Garden is to safeguard national biological resource security, and promote the harmonious and sustainable social and economic development services.

Construction progress
At present, Yili Botanical Garden has completed five germplasm resources conservation areas, including flowers garden, medicinal plants garden, fruit trees collection area, and In/Ex situ conservation area of wild fruit forest (about 200 ha). And the plant resources survey of the surrounding areas of Yili Botanical Garden is finished, and a total of 2,225 plant specimens were collected, and nearly 10,000 pieces of plant image data were collected. We formed a Plant List of the Central and Western Tianshan Mountains. The proposal of "Saving the natural gene bank of Tianshan Wild Fruit forest in China" was adopted by the General Office of the CPC Central Committee and the State Office of the People's Republic of China and approved by Vice Premier Liu Yandong.
Contact:
Director: Guan Kaiyun; Deputy Director: Liu Huiliang
Tel: 0991-7823152