Professor Andreas Buerkert Came to XIEG and Conducted Research Work
2012-05-08
On April 25, 2012, Prof. Andreas Buerkert, distinguished research fellow of Xinjiang Institute of Ecology and Geography (XIEG), Chinese Academy of Sciences, as well as the professor in University of Kassel, Germany, came to XIEG and conducted his research work in the institute. TIAN Changyan, secretary of the Party committee of XIEG, promulgated the letter of appointment to Prof. Andreas Buerkert and hoped that he could undertake the relevant scientific research assignments, train scientific research team and promote the development of disciplines during his stay period.
Professor Andreas Buerkert is the head of the Department for Organic Plant Production and Agroecosystems Research in the Tropics and Subtropics at University of Kassel, and the chairman of German Institute for Tropical and Subtropical Agriculture (DITSL). His research field is carbon and plant nutrient cycling under agro-ecosystems. He has published more than 140 papers in the international academic journals. At present, Prof. Andreas Buerkert is the reviewer of some international academic journals, such as Field Crops Research, Journal of Plant Nutrition, and Soil Science and Journal of Arid Environments. In addition, he is also the evaluation expert in German Academic Exchange Service (DAAD) and German Science Foundation (DFG).
Professor Andreas Buerkert and XIEG have friendly cooperation for a long-time. He and XIEG have jointly applied a project of International Fund for Agricultural Development (IFAD), and trained 6 Chinese PhDs and postdoctoral. Prof. Andreas Buerkert will conduct the research on crops with high quality and high yield and the relationships between crops and soils.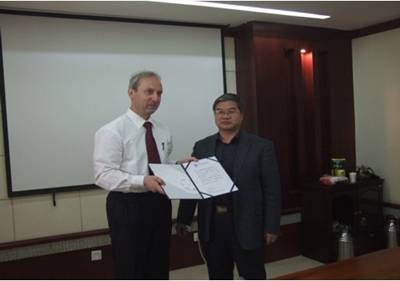 Prof. TIAN Changyan promulgated the letter of appointment to Prof. Andreas Buerkert