Xinjiang Collaborative Innovation Center for Green Development, Utilization and Ecological Restoration of Resources Established
2012-08-13
On August 7, 2012, Xinjiang Collaborative Innovation Center for Green Development, Utilization and Ecological Restoration of Resources sponsored by Xinjiang Institute of Ecology and Geography (XIEG), Chinese Academy of Sciences and Xinjiang University was established. Professor CHEN Xi, director of XIEG and Tashpolat · Tiyip, rector of Xinjiang University signed the cooperation framework agreement.
The objectives of the center are: 1) conducting collaborative researches in the major theoreties and practices on resources and environments; 2) exploring the new cooperative model for multi-disciplinary integration, multi-team collaboration and multi-technology integrated; 3) establishing steady and comprehensive cooperative relations; 5) providing sci-technological and talent sustainability for improving Xinjiang's steping over development.  
According to the agreement, XIEG and Xinjiang University will establish a "Xinjiang Laboratory of Green Development, Utilization and Ecological Restoration of Resources" jointly and open the existing engineering research centers and key laboratories to the other side. The two sides will apply and undertake scientific program together and focus on conducting sci-technological cooperation on the protection of water-soil resources and environment, the exploitation, utilization and ecological restoration of mineral resources. XIEG and Xinjiang University will also conduct professional talent training on the aspects of training high-level talents and jointly recruiting postdoctoral.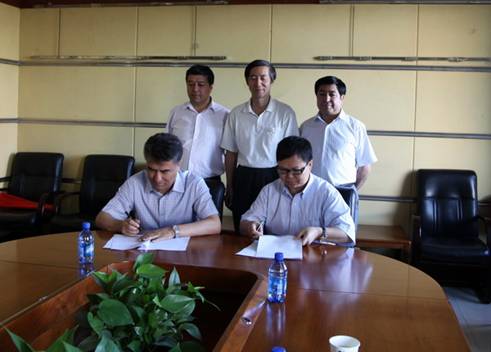 Director CHEN Xi and rector Tashpolat · Tiyip signed the cooperation framework agreement