Call for Papers: Journal of Arid Land Special Issue--Biodiversity Conservation and Sustainable Development in Arid Areas
2022-01-19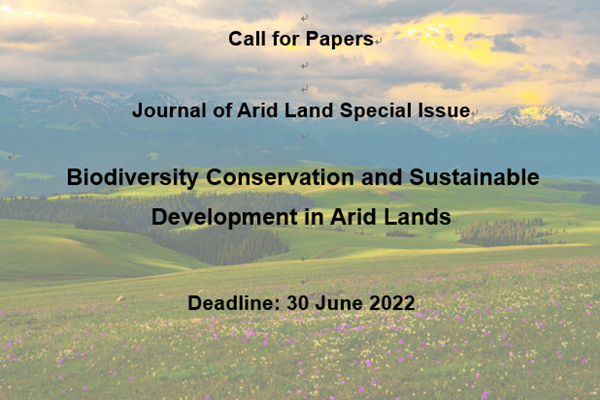 1. Context
Due to the special geographical location, arid areas in the world have given birth to complex, diverse and unique biological resources. These areas are characterized by low precipitation and high evaporation rate, where biodiversity resources are under critical pressure due to climate change and human activities. The problem of land degradation is prominent, socio-economic development lags behind, biodiversity is under serious stress, and biodiversity conservation is facing great challenges.
The Sustainable Development Goals (SDGs), also known as the Global Goals, were adopted by the United Nations in 2015 as a universal call to action to end poverty, protect the planet, and ensure that by 2030 all people enjoy peace and prosperity. The 17 SDGs are integrated—they recognize that action in one area will affect outcomes in others, and that development must balance social, economic and environmental sustainability.
The purpose of this special issue is to share knowledge of the value, conservation status, problems/issues, and challenges of biodiversity in ecologically fragile arid areas, and to increase the participation of global and regional stakeholders in the conservation and sustainable use of biological resources in arid areas.
2. Topics
The topics of the Special Issue include but are not limited to the following:
3. About the Journal of Arid Land
(1) Biodiversity inventory and monitoring in arid areas
(2) Biodiversity patterns and associated drivers in arid areas
(3) Challenges and conservation gaps in arid areas
(4) Biodiversity and climate change
(5) Biodiversity conservation and one health
(6) Sustainable use of biological resources in arid areas
(7) Post 2020 biodiversity conservation and sustainable development goals in arid areas
The Journal of Arid Land is an international peer-reviewed journal co-sponsored by Xinjiang Institute of Ecology and Geography, Chinese Academy of Sciences, Science Press and China Society of Natural Resources.
The journal covers such topics as the dynamics of natural resources (including water, soil and land, organism and climate), the security and sustainable development of natural resources, and the environment and the ecology in arid and semi-arid lands, especially in Central Asia. Coverage extends to interactions among the atmosphere, hydrosphere, biosphere and lithosphere, and relationships between these natural processes and human activities. The journal also discusses the patterns of geography, ecology and environment; ecological improvement and environmental protection; and regional responses and feedback mechanisms to global change.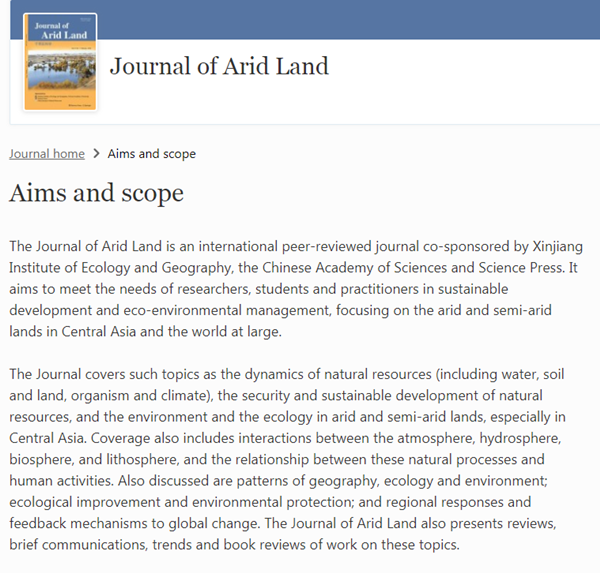 4. Guest Editor
Prof. Yuanming Zhang, Xinjiang Institute of Ecology and Geography, Chinese Academy of Sciences, China
Prof. Keping Ma, Institute of Botany, Chinese Academy of Sciences, China
Prof. Hikmat Hisoriev, Academician, Institute of Botany, Plant Physiology and Genetics, Tajikistan National Academy of Sciences, Tajikistan
Prof. Roman Jashenko, Institute of Zoology of the Republic of Kazakhstan, Kazakhstan
Prof. Komil Tojibaev, Academician, Institute of Botany, Academy of Sciences of the Republic of Uzbekistan, Uzbekistan
Prof. Ahmedou Soule, Research Center for the Valorization of Biodiversity (CRVB), Mauritania
Prof. Alice C. Hughes, Xishuangbanna Tropical Botanical Garden, Chinese Academy of Sciences, China
5. Submission of Full Papers
The Guest Editor Team invites both original research papers and review papers that fit within the scope outlined in this document. The focus of the submitted papers should lie on biodiversity conversation and sustainable development in arid areas, but comparative studies and methodological papers are also welcome as long as they are relevant for the topic of this special issue.
Please carefully read and follow the instructions for authors which you may find online at
https://www.springer.com/journal/40333/submission-guidelines
Before submitting your paper, you will need to create a user account and then submit all relevant files online at
https://mc03.manuscriptcentral.com/xjjal
Manuscripts can be submitted during the following time frame:
OPENING: 20 January 2022
DEADLINE: 30 June 2022
All submissions will be reviewed according to the standards of the Journal of Arid Land. Authors need to provide the names of two reviewers, complementing the reviewers selected by the journal. Revisions of the submissions, if necessary, are expected to be worked on in a timely manner after the review.