First Announcement of International Forum on Sustainable Development of Ecology and Environment in the Silk Road Economic Belt
2023-06-25
1st Announcement of International Forum on Sustainable Development of Ecology and Environment in the Silk Road Economic Belt
September 18-19, 2023, Urumqi, China
1.Background
President Xi Jinping first put forward the initiative of the Silk Road Economic Belt during his visit to Kazakhstan in 2013, and this year marks the 10th anniversary of the Belt and Road Initiative (BRI). The BRI proposed by China has promoted and carried forward the spirit of the Silk Road. Upholding the principle of wide consultation, joint contribution and shared benefits, China has achieved a raft of tangible and impressive achievements in pursuing common development with countries along the Belt and Road. By the end of 2021, China has established scientific and technological cooperation relationships with 84 BRI countries, supported 1,118 joint research projects, and launched the construction of 53 joint laboratories in agriculture, new energy and health. Cooperation is booming in developing the Silk Road of innovation. The BRI has become an immensely popular global public good, the largest platform for cooperation and a broad avenue for shared progress.
In order to take stock of the fruitful achievements of the BRI countries in scientific and technological cooperation in ecology, resource and environment over the past decade since the launch of the landmark initiative, and foster new impetus for future sustained development, the Xinjiang Institute of Ecology and Geography, Chinese Academy of Sciences (XIEG) plans to cooperate with Xinjiang Department of Science and Technology and Xinjiang Association for Science and Technology in jointly holding the "International Forum on Sustainable Development of Ecology and Environment in the Silk Road Economic Belt" from September 18 to 19, 2023.
2.Key Objectives
The event will offer an opportunity for exchanges and discussions on the establishment of more cooperation mechanisms and the expansion of new areas for cooperation. It aims to promote higher-quality technological cooperation among the BRI countries, advance the construction of a greener, innovative, and resilient Silk Road linking these countries, and jointly build a beautiful Silk Road community with a shared future.
3. Expected outcomes
- Open Leadership Dialogue Mechanism among the national research institutions and universities along silk road countries will be launched, and more cooperation mechanisms and new areas for cooperation will be discussed and established.
- Regional cooperation and collaboration are expected to be promoted to translate research findings into practical actions for the construction of a greener, innovative, and resilient Silk Road.
- The declaration of "Forge Synergies for Development, Jointly Build a Beautiful Silk Road" will be released, the consensus for multistakeholder collaboration will be further strengthened.
4. Forum theme and topics
Theme:
- Forge Synergies for Development, Jointly Build a Beautiful Silk Road
Topics:
- Biodiversity conservation and sustainable use in Arid Lands
- Green agriculture and food security
- Water resource status and sustainable use
- Eco-system restoration and governance
- Ecological monitoring technologies and application
- Pratacultural resources and sustainable management in Arid Lands
5.Date and venue
Date: September 18-19, 2023
Venue: Urumqi, China
6. Tentative Agenda
Date AM (10:00-14:00) PM(16:00-20:00)
17 Sept. Registration
18 Sept. Opening, Keynote Presentation, Roundtable Dialogue Sessions
19 Sept. Plenary Session, Closing Ceremony
7.Call for papers
Paper to be submitted should focus on the Forum theme and topics, the scientific results is the newest achievement which has not been published openly. Reviewed and accepted papers will be published in《Journal of Arid Land》and《Regional Sustainability》.
8.Working language
Chinese, English, Russian
9. Contacts
Forum Email: ifsdeesr@ms.xjb.ac.cn
Contact persons:
Dr. Huaping Long Dr. Haixiang Lv
Tel:18513504520 Tel:18399670686
10.Registration form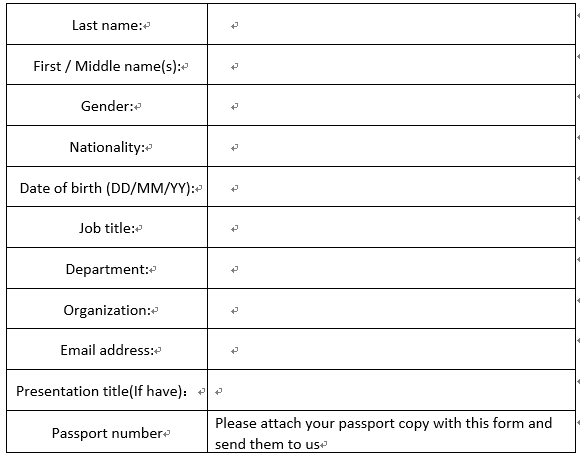 Click here to download the registration form.
Please fill in the form to register your participation and submit by 20 August, 2023 to: Dr. Huaping Long and Haixiang Lv at ifsdeesr@ms.xjb.ac.cn