Research Fields
(1) Desertification processes and mechanisms
(2) Mechanism of windblown sand movement
(3) Desert plant ecology
(4) Formation and evolution of desert environments
(5) Desertification prevention and desert environment regulation
Significant Projects
(1) Development and demonstration of key techniques for comprehensive ecological regulation at the southwestern margin of the Tarim Basin (supported by the National Science and Technology Program, 15.61 million yuan, 2009-2013)
(2) Process and interaction of water-soil-atmosphere-biology of oasisization (supported by the National Basic Research Program of China (973), 6.0 million yuan, 2009-2013)
(3) Development and demonstration of key eco-industrial techniques for desert engineering construction (supported by the High-Tech Research and Development Plan of Xinjiang Uygur autonomous region, 3.0 million yuan, 2008-2010)
(4) Integration and demonstration of key techniques for developing economical, ecological barriers in desert-oasis ecotones (supported by the High-Tech Research and Development Plan of Xinjiang Uygur autonomous region, 3.0 million yuan, 2007-2010)
(5) Development and demonstration of key techniques for desert vegetation recovery in outer-hill areas on the north slope of the Kunlun Mountains (supported by the High-Tech Research and Development Plan of Xinjiang Uygur autonomous region, 1.5 million yuan, 2009-2011)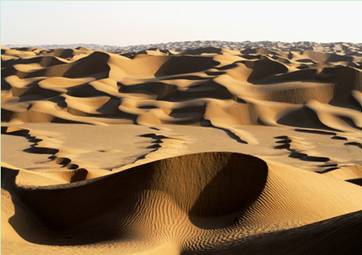 The Taklimakan Desert
Major Achievements
(1) Developments and applications of technology for shelter-forest establishment along the Tarim Desert Highway in Xinjiang
The project solved technical problems of controlling sand disasters on the Tarim Highway and planting shelterbelt forestry with saline water irrigation in this area of mobile desert. The researchers developed a new pattern for water utilization and construction for ecological protection in arid areas. A 436-km shelterbelt eco-project was established along the Tarim Desert highway. The project's achievements gained the second prize of National Scientific and Technological Progress Award in 2008.
(2) Technology for large-scale Tamarix restoration by flood irrigation on saline sandy land to control sand encroachment in Qira county
Both the technology and the project received awards from the United Nations Environmental Program (UNEP) in 1995.
(3) Research into controlling sand disasters within the water supply project of northern Xinjiang
The research clarified soil moisture variation in humid sand layers in the Gurbantunggut Desert and developed a technical system for vegetation restoration without irrigation in the Junggar Basin. The achievements of the project gained the first prize of Xinjiang Scientific and Technological Progress Award in 2009.
Personnel
The department has 30 research staffs, including 6 professors, 11 associate professors and senior engineers, and 9 assistant professors and engineers.
There are currently 30 postgraduate students in the department, including 8 PhD candidates and 22 MSc candidates.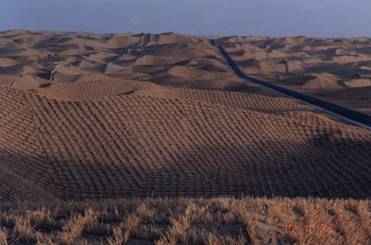 Straw-checkerboards for fixing sand along the Tarim Desert Highway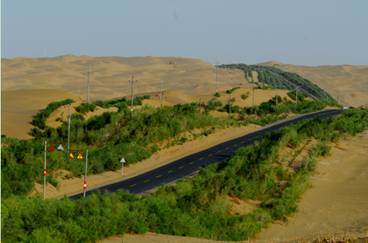 Shelterbelts along the Tarim Desert Highway
Contact
Director: Prof. XU Xinwen
Tel: +86-991-7823139
E-mail: sms@ms.xjb.ac.cn
Deputy Director: LI Shengyu
Tel: +86-991-7823146
E-mail: oasis@ms.xjb.ac.cn