Introduction
The Laboratory was established in 2009. Aiming at arid land, the Laboratory mainly engaged in research on floristic characteristics and distribution patterns of plants, biodiversity and its response to environmental change, and molecular biogeography.
Research Fields
(1) Distribution patterns of fauna and flora in arid land
(2) Response and adaptation of organisms to environmental and climatic changes and human disturbances in arid land
(3) Biodiversity conservation in arid land
(4) Ecological restoration of damaged ecosystems in arid land
Significant Projects
(1) Processes of carbon assimilation and carbon exchange between the soil surface and atmosphere in arid land (supported by the National Basic Research Program of China (973), 4.30 million yuan, 2009-2013)
(2) Restoration of damaged desert ecosystems based on biological soil crusts (supported by the Key project of Knowledge Innovation Programs of the CAS, 1.25 million yuan, 2009-2011)
(3) Research on IPM technologies for control of insects affecting cotton and environmental health in arid regions (supported by the Major International Cooperative Projects of the Ministry of Science and Technology, 2.37 million yuan, 2008-2010)
(4) Phytoremediation of petroleum contaminated soil in the arid zone (supported by the Key project of Knowledge Innovation Programs of the CAS, 1.15 million yuan, 2009-2011)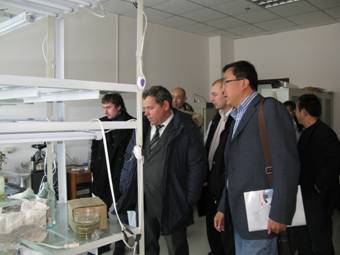 Laboratory of biological soil crusts
Main Publications
Zhang M L, Frotsch P W, Cruz B C. 2009. Phylogeny of Caragana (Fabaceae) based on DNA sequence data from rbcl, trnS-trnG, and ITS. Molecular Phylogenetics and Evolution, 50(3), 547–559.
Pan X L, Zhang D Y, Chen X, et al. 2009. Effects of levofloxacin hydrochloride on photosystem II activity and heterogeneity of Synechocystis sp.. Chemosphere, 77(3): 413–418.  
Zhang Y M, Chen J, Wang L, et al. 2007. The spatial distribution patterns of biological soil crusts in the Gurbantunggut Desert, Northern Xinjiang, China. Journal of Arid Environments, 68(4): 599–610.
Software registered by National Patent Bureau
Zhang D Y. Database software on germplasm resources of high desert plants in the North of Xinjiang. V1.0. No: 2009SR038955.
The 2nd Prize of the National Science and Technology Advancement Award: Control on Aphis gossypii using ecological techniques in Xinjiang. 2007.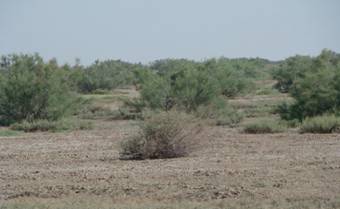 Tamarix ramosissima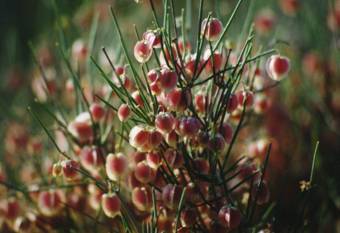 Fruit of Calligonum sp.
Personnel
There are 48 research staffs in the Laboratory, including 20 professors, 10 associate professors, 4 scientist of the Hundred Talents Program and 1 visiting professor.
There are currently 80 postgraduate students in the Laboratory, including 30 PhD candidates and 50 MSc candidates.
Contact
Director Dr. ZHANG Yuanming
Tel: +86-991-7823158  
E-mail: zhangym@ms.xjb.ac.cn
Deputy Director: Dr. ZHANG Mingli
Tel: +86-991-7823152  
Deputy Director: Dr. PAN Xiangliang
Tel: +86-991-7885446