Introduction
The Laboratory was established in 1996, and approved as a key laboratory by the Xinjiang government in 2002. The Laboratory focuses on implementing national key projects and serving local economic development using remote sensing and GIS techniques. It undertakes remote sensing and GIS technology studies in the arid zone at local, regional and national scales across central Asia.
Research Fields
(1) Process technology of remote sensing images and data sharing of arid area ecosystems
(2) Simulation and visualization of arid ecosystem processes
(3) Analysis of land use and land use cover changes and its global responses
(4) Security of resources and the environment in central Asia
(5) Remote sensing evaluation of water resources and simulation of water processes
(6) The field ground measurements and calibration of remote sensing images
Significant Projects
(1) Impact of LUCC on regional evapotranspiration in arid areas of central Asia during the last 50 years (supported by the National Natural Science Foundation of China (Key Program), 1.8 million yuan, 2008-2011)
(2) Study of environment effects and ecosystem changes due to the utilization of water resources in Xinjiang and the adjacent countries of middle Asia (supported by the Knowledge Innovation Program of the Chinese Academy of Science, 2.50 million yuan, 2007-2009)
(3) Development of a spatial information system service for water resources and water disasters (supported by the National Key Technology R&D Program, 1.24 million yuan, 2008-2010)
(4) Decision-Support Information System for Water Resources Management in the Tarim River Basin (supported by World Bank, 11.52 million yuan, 2004-2009)
(5) Integration of geological and remote sensing information to identify mineralized areas in Xinjiang and the adjacent countries of middle Asia (supported by Xinjiang Uygur autonomous region, 1.40 million yuan, 2007-2010)
Major Accomplishments
Awards
The comprehensive management techniques of oasis agriculture and ecology of the middle and lower reaches of Tarim River gained the 2nd Prize of the National Science and Technology Advancement Award (2008-J-251-2-07-D01) in 2008.
Main Publications
Chen X, Luo G P, Xia J, et al. 2005. Ecological responses to the climate change on the northern slope of the Tianshan Mountains in Xinjiang. Science in China: Series D, 48(6): 765–777.
Luo G P, Zhou C H, Chen X, et al. 2008. A methodology of characterizing status and trend of land changes in oases: a case study of Sangong River watershed, Xinjiang, China. Journal of Environmental Management, 88(4): 775–783.
Software registered by National Patent Bureau
(1) Management system for resource information (2009SR08931)
(2) Evaluation system for the ecological environment of a typical basin of the northern slope of the Tianshan Mountains in Xinjiang (2009SR052759)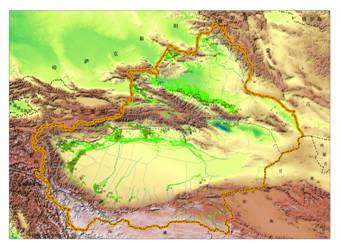 Distribution map of landform in Xinjiang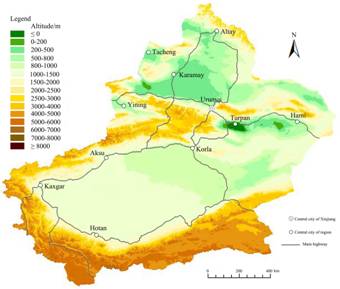 Distribution map of altitudes in Xinjiang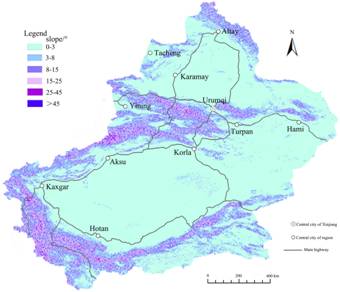 Distribution map of terrain slope in Xinjiang
Personnel
There are 21 research staffs in the Laboratory, including 4 professors, 3 associate professors and 3 senior engineers.
There are currently 43 postgraduate students in the Laboratory, including 19 PhD candidates and 24 MSc candidates.
Contact
Director: Prof. CHEN Xi     
E-mail: chenxi@ms.xjb.ac.cn
Deputy Director: Prof. BAO Anming
E-mail: baoam@ms.xjb.ac.cn
Deputy Director: Prof. YANG Liao 
E-mail: yangliao@ms.xjb.ac.cn
Tel: +86-991-7885378, 7885374