Research Fields
(1) Characteristics and functions of biodiversity in the arid zone
(2) Endangering mechanisms of important rare species and conservation strategies in the arid zone
(3) Response and adaptation of biodiversity to environment, climate change and human disturbance in the arid zone
(4) Exploration and sustainable utilization of bioresources in the arid zone
Significant Projects
(1) Conservation of biodiversity in a typical temperate desert (supported by the Key Project of Knowledge Innovation Programs of the CAS, 1.5 million yuan, 2006-2008)
(2) Molecular geography and ecology of desert plants in the arid zone (supported by the Project for the Hundred Talents Project of the CAS, 1 million yuan, 2008-2011)
(3) Ecological monitoring and conservation of Houbara bustard in China (supported by the International Cooperative Projects Between China and the UAE, 3.52 million yuan, 2008-2012)
(4) Study of Calligonum species in Central Asia and platform constructions for conservation of germplasm resources (supported by the Major International Cooperative Projects of the MOST of China, 1.39 million yuan, 2008-2011)
(5) Collection of desert plants and optimization of ecological landscapes (supported by the Particular Projects for Preservation and Sustainable Utilization of Strategic Resources of the CAS, 4 million yuan, 2007-2009)
Major Achievements
(1)  Research on phylogeny and conservation of desert plants
Based on integrated studies relating to morphology, taxonomy, geography and cytology, the department studied systematic and phylogeny of several important desert plants such as Calligonum, revised parts of their phylogenesis, suggested some new views on systematic evolution, and resolved a series of disputed key problems relating to taxonomic research.
Main publications
Gaskin J F, Zhang D Y, Bon M C. 2005. Invasion of Lepidium draba (Brassicaceae) in the western United States: distributions and origins of chloroplast DNA haplotypes. Molecular Ecology, 14(8): 2331-2341.
Zhang D Y, Zhang Y, Gaskin J F, et al. 2006. Systematics position of Myrtama Ovcz. & Kinz. based on morphological and nrDNA ITS sequence evidences. Chinese Science Bulletin, 51(Supp. I): 117-123.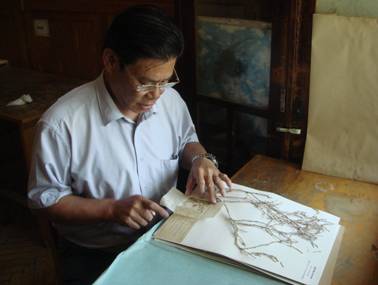 Plant specimen identification
(2) Research on the endangering mechanisms of important threatened desert species
Based on electron microscopy observation, molecular marker (ISSR and RAPD), radiometric and GPS technologies, the researchers carried out study on population dynamics, biological properties, breeding ecology, genetic diversity, habitat selection and population viability of important species in arid areas. The researchers assessed the intensity of human disturbances and provided suggestions for sustainable management and biodiversity conservation in desert areas. The Metallothionein Gene of Tamarix albiflonum derived from the research was patented as Nr. 200610009150.4.
Main publications
Yang W K, Gao X Y. 2009. Conservation Biology of Houbara Bustard. Urumqi: Xinjiang Science and Technology Press.
Ma W B, Shi X, Zhang D Y, et al. 2008. Flowering phenology and reproductive features of the rare plant Eremosparton songoricum in desert zone, Xinjiang, China. Journal of Plant Ecology, 32(4): 760-767.
(3) Research on succession mechanisms and ecological function of biological soil crusts
Based on field observations and laboratory cultures, the researchers carried out interdisciplinary research on species composition, quantitative characteristics, distribution pattern, microstructure, eco-physiological characteristics, succession mechanism and ecological functions of biological soil crusts.
Main publications
Zhang Y M, Wang X Q. 2008. Research on Biological Soil Crusts in the Junngar Desert. Beijing: Science Press.
Zhang Y M, Wang H L, Wang X Q, et al. 2006. The microstructure of microbiotic crust and its influence on wind erosion for a sandy soil surface in the Gurbantunggut Desert of Northwestern China. Geoderma, 132(3-4): 441-449.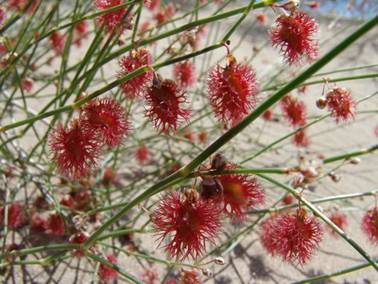 Calligonum ebinuricum Ivanova (Polygonaceae), an endemic species in Xinjiang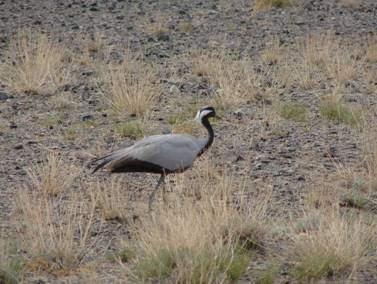 Anthropoides virgo
Gazella subgutturosa
Personnel
There are 36 research staffs in the department, including 12 professors, 7 associate professors, 3 scientists of the Hundred Talents Program and 1 visiting professor.
There are currently 46 postgraduate students in the department, including 16 PhD candidates and 30 MSc candidates.
Contact
Director: Prof. ZHANG Yuanming
Tel: +86-991-7823158
E-mail: zhangym@ms.xjb.ac.cn
Deputy Director: Prof. YANG Weikang
Tel: +86-991-7885358
E-mail: yangwk@ms.xjb.ac.cn